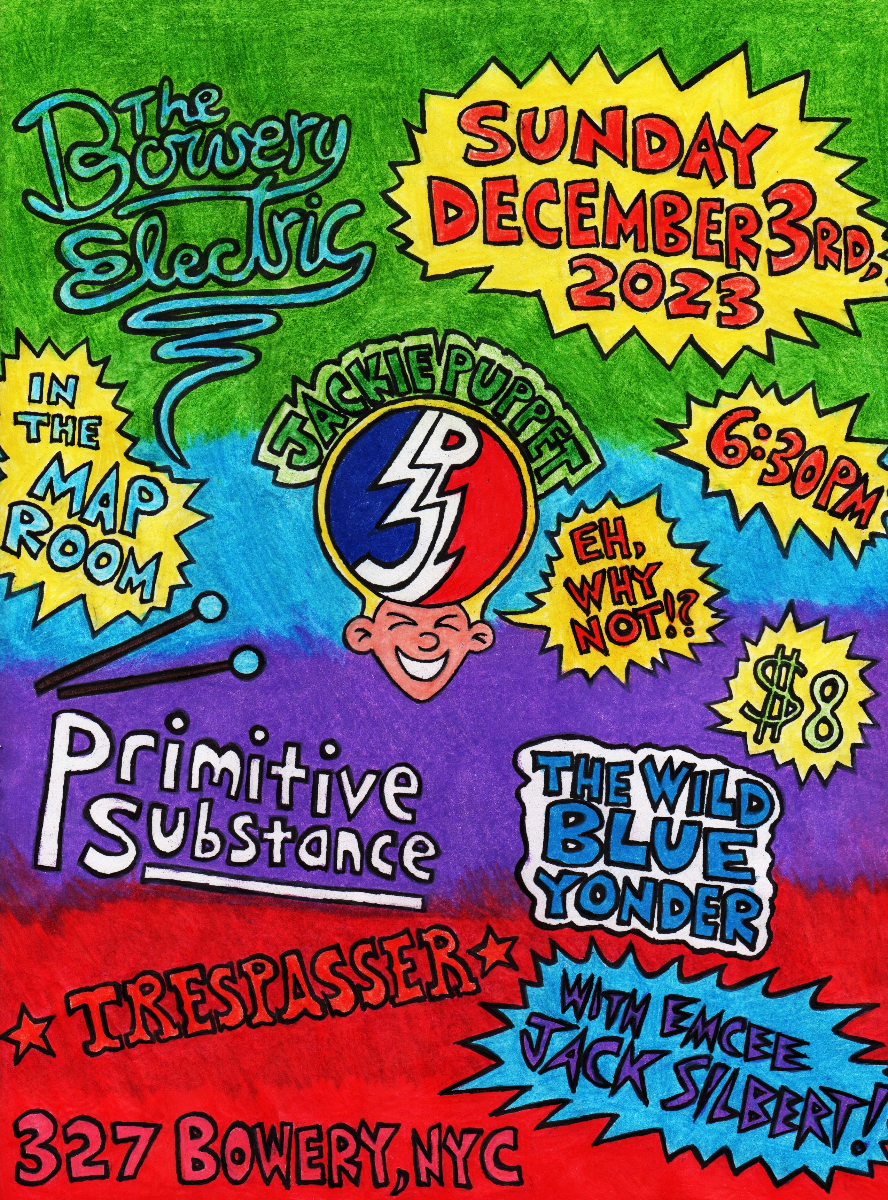 Jackie Puppet
with
Primitive Substance
,
Trespasser
,
Wild Blue Yonder
Sun
December 3
@ 6:30 PM
(Doors: )
21 and up
Jackie Puppet
is a rock & roll band from New Jersey and based in Brooklyn... With a sound that incorporates stoner rock, glam punk, country, and psychedelic balladry, their songs are populated with characters like Scuba Bob, Gutterball Jamila, and Jane Crazy... If Mad Magazine were a rock band, it would look and sound like this...
Primitive Substance
is a New Jersey-based collective of musicians founded by Liquid Liquid marimba player/percussionist and eclectic solo artist Dennis Young, singer-songwriter/rock & roll poet Raymond Bally, and mercurial Jackie Puppet co-founder/solo artist Brad Kleiman. In addition to individual albums produced by Young, they are currently working on their first collaborative release under the Primitive Substance band name (with special feature guest artists to be announced).
trespasser
formed at Wesleyan University in the fall of 2021, trespasser consists of Clay, Jack, Hudson, Matt, Noah and Nic. The group was formerly called the Clay Rodgers Band, with Clay being the primary songwriter and leader of the band. Our sound is a mix of many different styles, with influence from country, jazz, punk and psych rock. We take especially big influence from the country and early psych rock of the 60s and 70s (think anywhere from Merle Haggard to the Grateful Dead). We combine this sound with a firm rooting in jazz, indie rock and more modern rock-pop. We also put a big emphasis on live shows, with heavy use of on stage improvisation and varied set lists. When we were all in school, we played shows regularly on campus (sometimes two or three per weekend), drawing crowds of anywhere from 20 to 150. We've just moved to NYC together and are excited to see where this next stage takes us.
Wild Blue Yonder
is named after the sky's vastness: an infinite depth of possibilities found in music. A four-piece from Pittsburgh, PA, the band never plays the same song the same way twice live. Founded in 2019 while still in high school, Wild Blue Yonder has played 3-5 shows a month ranging from established venues such as Mr. Smalls Theater to self-created venues as a part of the band's "Make Your Own Opportunity" mindset that has curated countless memories for students on a budget with Free Live Music: Saucin on Dawson and The Oakland Tiny Desk. The band went on tour in Spring 2022 playing at 123 Pleasant Street in Morgantown, WV, and was hosted by Elon University's Limelight Records in NC all before releasing their highly anticipated debut album, released in Summer 2022. As lovers of interdisciplinary art, the band released a short film entitled "Where's the Album?" to explain why they didn't have an album out… to promote the album they didn't yet have. Following the success of "Dancing Astray," WBY finished a Summer 2023 tour going from Cleveland to Atlanta and is recording new music to come…soon! The band has an outside-the-box, authentic approach to themselves, their music, and the concert experience; all reasons why fans love Wild Blue Yonder.
---
Artists
---
---
---
---
---