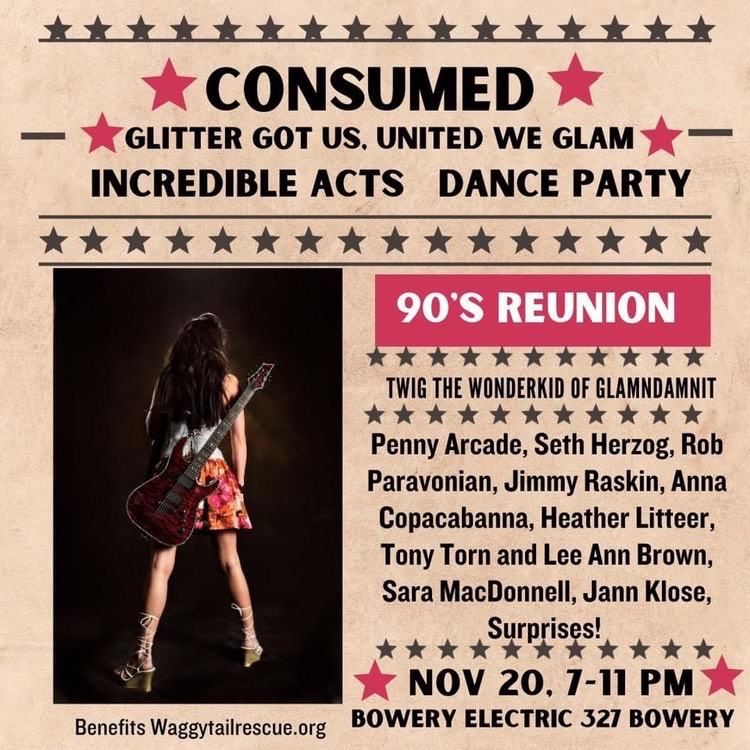 Penny Arcade
with
Jann Klose
,
Anna Copacabana
Mon
November 20
@ 7:00 PM
(Doors: )
21 and up
CONSUMED
For the Guttersnipes, Glamourpusses, Gigolos, Giantesses and Gimps

Remember when Downtown was a concept, not a real estate pitch? When there were no boundaries, no matter what you did for a living, who you fucked, where you were born, how famous you were, what the color of your skin was? Welcome home, baby.
A sultry, succulent, surreptitious evening for it-girls, boys and thems of the past, present and future, cultural sugar daddies and mommies and the hangers-on who love them, the talented, beautiful ones, the not-so-talented, but beautiful ones and the spectacularly mediocre. We'll find a place for you, no matter who you are.
What happens here is up to you. Join us if you're ready. We're not babysitters. But we will take care of you. That's a promise. Which is to say, the night will be dangerous only when you want it to be.
Indulge in the bizarre but transcendent variety show. We promise some serious ringers, from the nubile to the notorious, including Penny Arcade, Seth Herzog, Rob Paravonian, Jimmy Raskin, Anna Copacabanna, Heather Litteer, Sara MacDonnell and Jann Klose. To be followed by an unhinged dance party where all preconceptions and hang-ups must, and will, be left at the door, and all desires must, and will, be indulged—consensually, of course.
Twig the Wonderkid (Glamdammit) spinning prickly, gritty paeans to desire and debauchery on the ones and twos—punky, funky, from shimmering anthems to corrosive dirges—foxy, fierce, globetrotting dominatrix and Mistress of the Animals Holly DeRito, fashion victim/visionary and uncontainable multi-hyphenate Michael Wiener and elusive rock and roll siren Erin Sullivan co-hosting, and various legendary guests waiting in the wings to dazzle you, and tease out dreams you never knew you had.

Proceeds benefit Waggytailrescue.org
---
Artists
---
---
---
---
---
---