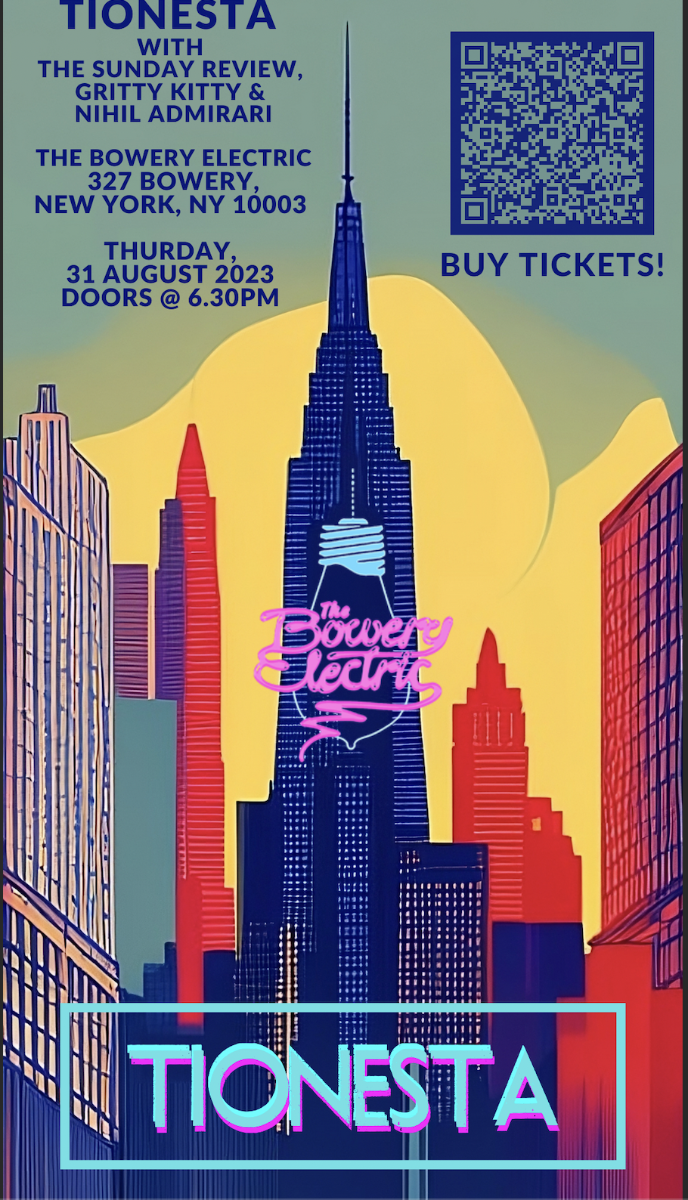 Tionesta
with
Nihil Admirari
,
Gritty Kitty
,
Thu
August 31
@ 6:30 PM
(Doors: )
21 and up
The Sunday Review
Musicians Chris Phillips and Michael Cerda met in 2018 in New York City. Phillips played guitar on Cerda's "Yellow House Orchestra" record, and the two have been co-writing ever since. The writing approach - "What if we had the musicianship when we were kids, that we do now? What would we have written?" With a hat tip to the late 1970s/early 1980s era of songwriting, Phillips and Cerda are pumping out crafty songs you don't hear much of these days. It's a little Donny, a little Roxy, and a little Daryl, but written and recorded today. The 2023 releases of singles "Back and Forth" and "On and On", also include Brian Dunne on drums. But of course. The band is releasing a full length album in May 2023.
Tionesta
Tionesta was formed in 2018 by Steve "Durango" Williams and Steven Sexton while the two attended The University of Maryland in College Park. In 2019, the group added Williams' former bandmate, Bryant Roesch, of Syracuse, New York, and Have SINCE brought on Baltimore locals Taylor Gomolisky, Kevin Flinn, and Nick Looft.
Tionesta released its first EP "Greatest Hits" in March of 2019. The EP was well received in Baltimore with the band selling out it's debut performance and the four tracks each receiving air time across Baltimore radio stations. In March of 2021, the group released tracks from their debut album "Tionesta" as three singles across March and April. The full album was released on May 7th, 2021 to a sold-out Power Plant Live in Baltimore, MD.
Gritty Kitty
Just a couple of fellas playing tunes.
We are an indie rock band formed in Tarrytown, New York. We are a group of friends who have been playing music together for years. We play indie rock music with classic rock influence.
Since then, they have recorded and filmed a live album, titled "Live at Stages". Several singles have been released, with the full album coming out in 2023.
Nihil Admirari
We are currently a 3-man post-punk band with many genre influences built on a foundation of punk, hard rock and theatrical rock music. Our sound, themes, look and creative philosophy follow our namesake, "Nihil Admirari"; a Latin phrase describing a way of life that discourages expectation and encourages having an open mind. We represent diversity, empathy, thought and exploration in this everyday through mediums like an emphasis on visual creativity, the line and cornucopia of complexity versus simplicity of composition and the parallax effect of two instruments with one vocal producing a much bigger sound than...expected.
We grew from a duet in 2016 to a trio in 2017 and have been on the hunt for our final member - a bassist - ever since. But through the many challenges and setbacks over the years, we were able to produce 2 EPs, 3 Singles, 3 Lyric Videos and a yearly Halloween Festival while performing around NYC and New Jersey.
---
Artists
---
---
---
---