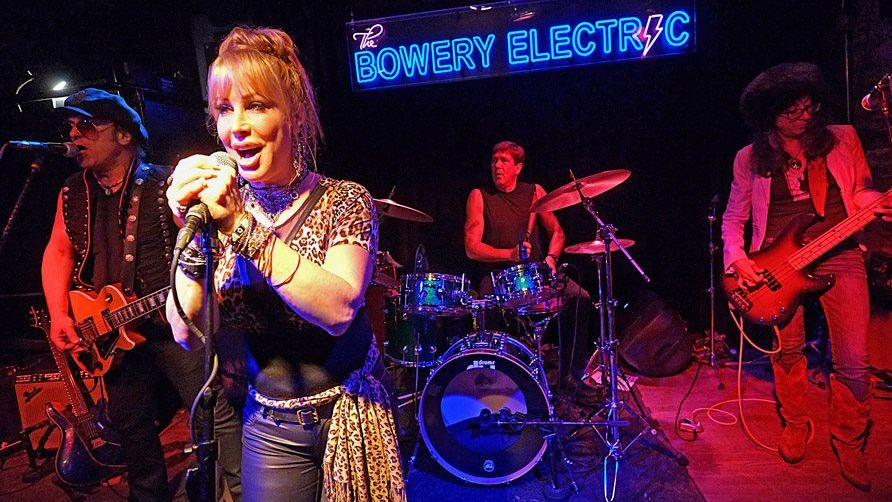 The Cynz, Palmyra Delran and the Doppel Gang, SLAMDINISTAS
with
SLAMDINISTAS
,
Palmyra Delran
,
The Cynz
Sun
September 24
@ 6:30 PM
(Doors: )
21 and up
The Cynz
are a full-throttle rock band formed around the songwriting talents of poet CYNDI DAWSON (voc) and HENRY SEIZ (gtr/voc). The Cynz have been rocking the NYC area and abroad for over 10 years. THE CYNZs' influences -- late '70s Lower East Side NYC chainsaw music of the RAMONES and THE DEAD BOYS to the tough, gritty rock of The MC5, ALICE COOPER, and MITCH RYDER & THE DETROIT WHEELS. THE CYNZ have recently signed with JEM RECORDS and are working in the studio on their next album. The new album will be distributed globally through CD Baby on Spotify, Apple Music, TikTok, Instagram, Amazon Music, YouTube Music Deezer, Pandora, and other platforms worldwide! THE CYNZ have been enjoying radio airplay from colleges and Little Steven's Underground Garage on the Rodney Biegenheimer, Genya Ravan, Bill Kelly, Palmyra Delran, and Speedy John Carlucci shows.
Palmayra Delran and the Dopple Gang
The New Yorker (by way of Philadelphia) with a penchant for mod and Vespa scooter culture has recruited so many spies to conspire with on "Come Spy With Me" her latest self-produced tour de force of a platter with The Doppel Gang, released on Wicked Cool Records. Her next project, The Coolies, a supergroup combining Palmyra, Kim Shattuck, and Melanie Vammen (both of The Muffs and The Pandoras), released "Uh Oh! It's The Coolies" to raise money for research and to raise awareness of ALS.
When she's not writing, recording or touring, Ms. Delran brings the rock to the people as host of Palmyra's Trash-Pop Shindig on Little Steven's Underground Garage, broadcasting on Mon & Tue 4-7pm, Wed & Thurs 8pm-midnight, Sun 8am-noon, on SiriusXM. "I get to unleash the geek and not just bore my friends with music facts!"
PALMYRA DELRAN AND THE DOPPEL GANG is: Palmyra Delran – vocals, guitar; Michael Lynch - bass; Mark Brotter - drums; Bob Wojciechowski - guitar.
SLAMDINISTAS
Bringing raw in-your-face street rock & roll. Their songs get instant radio respect. Their influences: 70's English PubRock, Punk & Classic Rock, the British scene, a la Stones & Faces, recalling the Glory Days of Rock + Roll. Their studio chemistry worked so well it is as if the band had several tours behind them. The sound born on those fateful sessions brings you: SLAMDINISTAS
---
Artists
---
---
---
---