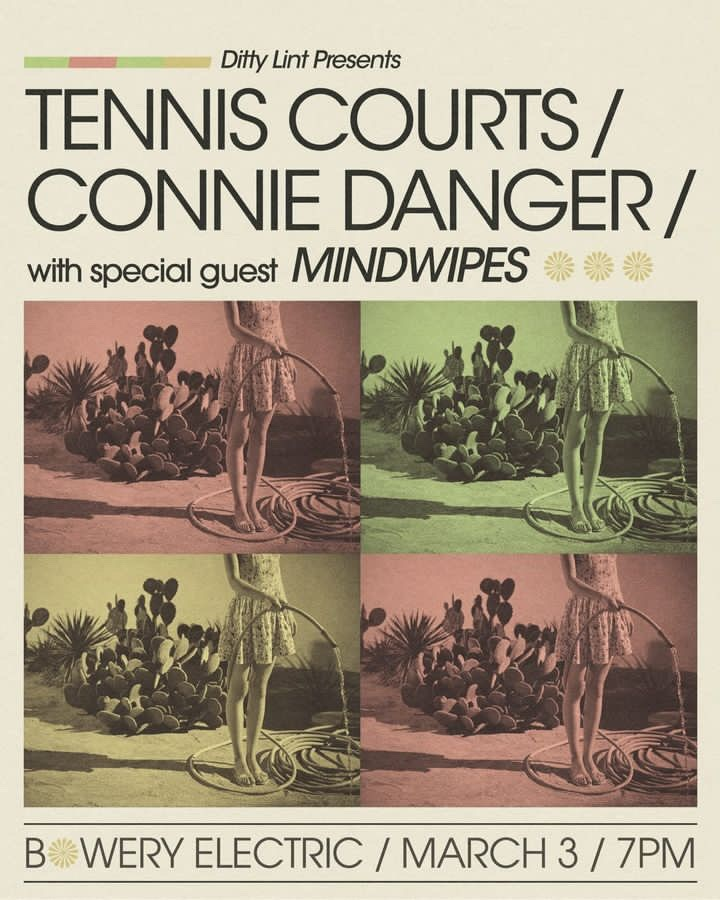 Tennis Courts
with
Connie Danger
,
Mindwipes
Fri
March 3
@ 7:00 PM
(Doors: )
21 and up
Tennis Courts
based in Brooklyn, NY. Tennis Courts is a rock and roll band led by singers/songwriters/very good pals, Patrick Walsh and Andrew Clarke. The duo met while attending college in Charleston, South Carolina and began writing songs together soon after. Inspired by everything from indie rock bands of the 2000s to folk singers of the 1960s, the group spent their formative years playing in living rooms, backyards, and basements. With the support of their friends, those rooms soon turned into sold out shows at venues across the city. After spending most of the last two years hunkered down at home writing songs, the band returned to the studio in the fall of 2021 with producer/engineer Matt Zutell at Coast Records. Zutell helped the band explore different sounds and sonic palettes while still staying true to their DIY roots. With dreams of broadening their horizons, the duo packed up their things and relocated to Brooklyn, NY at the beginning of 2022.
Connie Danger
has a cosmic vision, but his tools are simple. He does not have a band or a full-on recording studio, so he must make do in his bedroom. The result is imperfect–but also epic. His simple pop songs might build to a cinematic crescendo, or they might give you the sweet, sweet funk you need in a dancefloor banger. Connie Danger applies daily for a Sugar Daddy or Mommy to finance his dream of a space movie opera. Absent this Sugar Patron, he must make do with his green screen. The result is a sexy vhs retro-future maelstrom–and if it's nothing else, it's tons of fun to make.
Mindwipes
is a dynamic and collaborative project grown out of West Chester, Pennsylvania. The group is based around the indie, alt-rock and pop-influenced songwriting of Cameron Schultz. The sounds of the Mindwipes are a fusion; heavily inspired by early aughts bands like The Strokes, Arctic Monkeys, The Shins, and Muse with a dose of 70's guitar rock influence from groups such as The Rolling Stones, Led Zeppelin, and Television. Mindwipes' debut, 8-track album, "Out of the Ordinary" was self-recorded in Clifton Heights, PA in the summer of 2019.
---
Artists
---
---
---
---