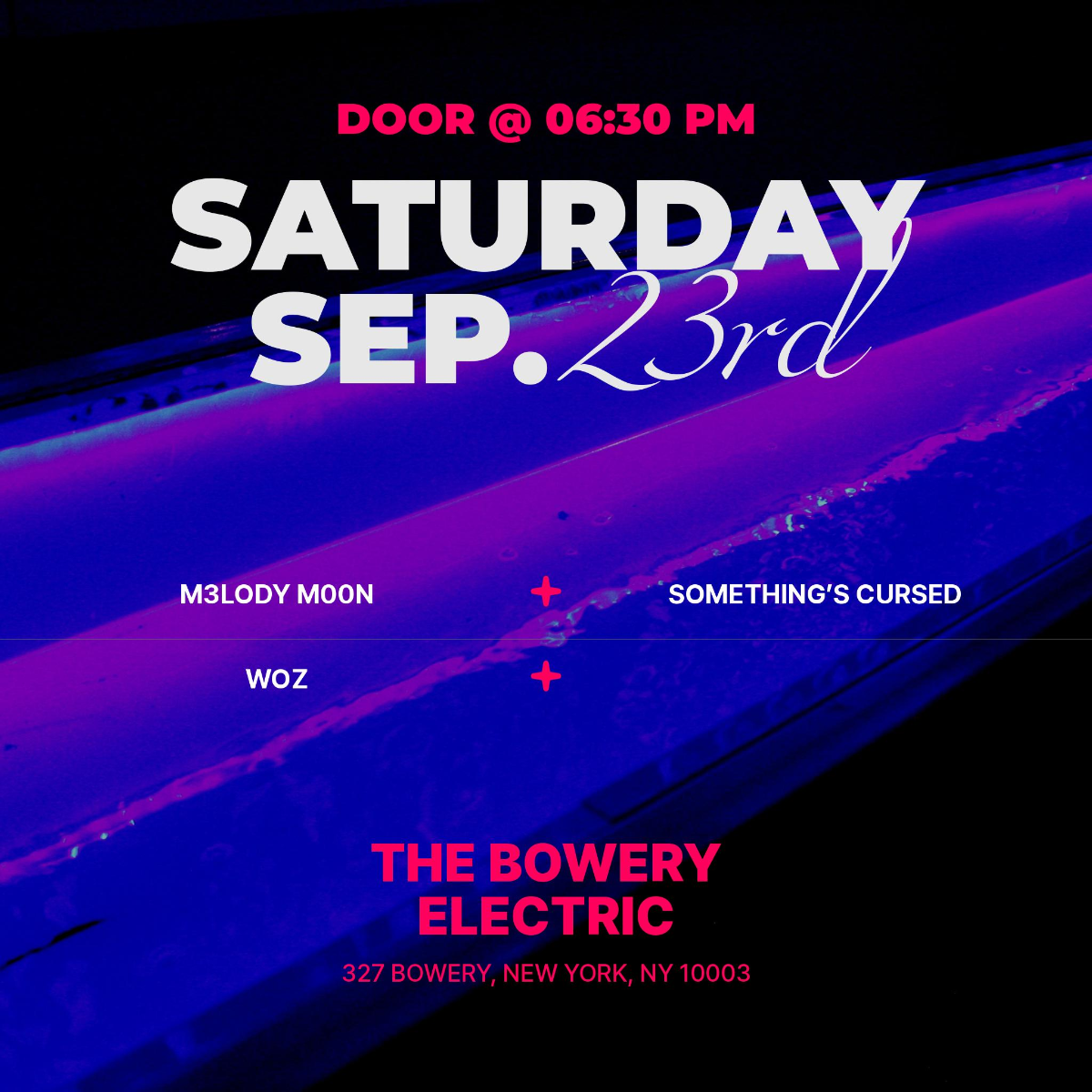 M3LODY M00N
with
Something's Cursed
,
Woz
Sat
September 23
@ 6:30 PM
(Doors: )
21 and up
M3LODY M00N
hails from outer space to sing through your feelings, sweat, and rage. Lead singer Melody's songwriting took off during the pandemic, when they took a year long break from the concrete jungle that is NYC to soak up some sun and enjoy the wildlife of Northern Nevada. Their biggest influences are Prince, Florence + the Machine, & Queen. Like said artists, they don't believe in boxes like genres, so make of the sounds however you choose. Like all good art, the perception is in the eye of the beholder. Most of the band met back in 2018 when they were known as All the Way Mae. Now, Melody, Moni (Keys), Matt (Guitar), Keith (Bass), & Pete (Drums) have come together to reignite that old flame. Hope you brought your PPE.
Something's Cursed
formed in 2019, Something's Cursed is a melodic punk rock band based in Queens, NY. Their captivating music combines raw energy, infectious hooks, and introspective lyrics that delve into the human experience. With their debut album "Revenge" (2019) and the EP "Hell Adjacent" (2022), which features the standout lead single "Cigarettes & Therapy," Something's Cursed has showcased their unapologetic spirit and unique sound. They continue to make their mark in the alternative music scene, crafting authentic and emotionally charged punk rock anthems.
Woz
Dylan Wozniak, who is most commonly known under the stage name Woz, was born and raised in New York, United States released his debut single 'Gulf' on the 17th of April 2022, but the largest proportion of his internet popularity came from the social media platforms Tiktok and Instagram after releasing his 3rd single 'Child Support' on the 12th of October. The song's lyrics are deeply vunerable and touching, since the song dives into Wozniak's personal relationship with his father (Jon Wozniak), who left home to be in a band (Marcy Playground). Since the release of 'Child Support' Wozniak has gone on to release his first EP 'At the Gulf' and perform at the Amityville Music Hall.
---
Artists
---
---
---
---