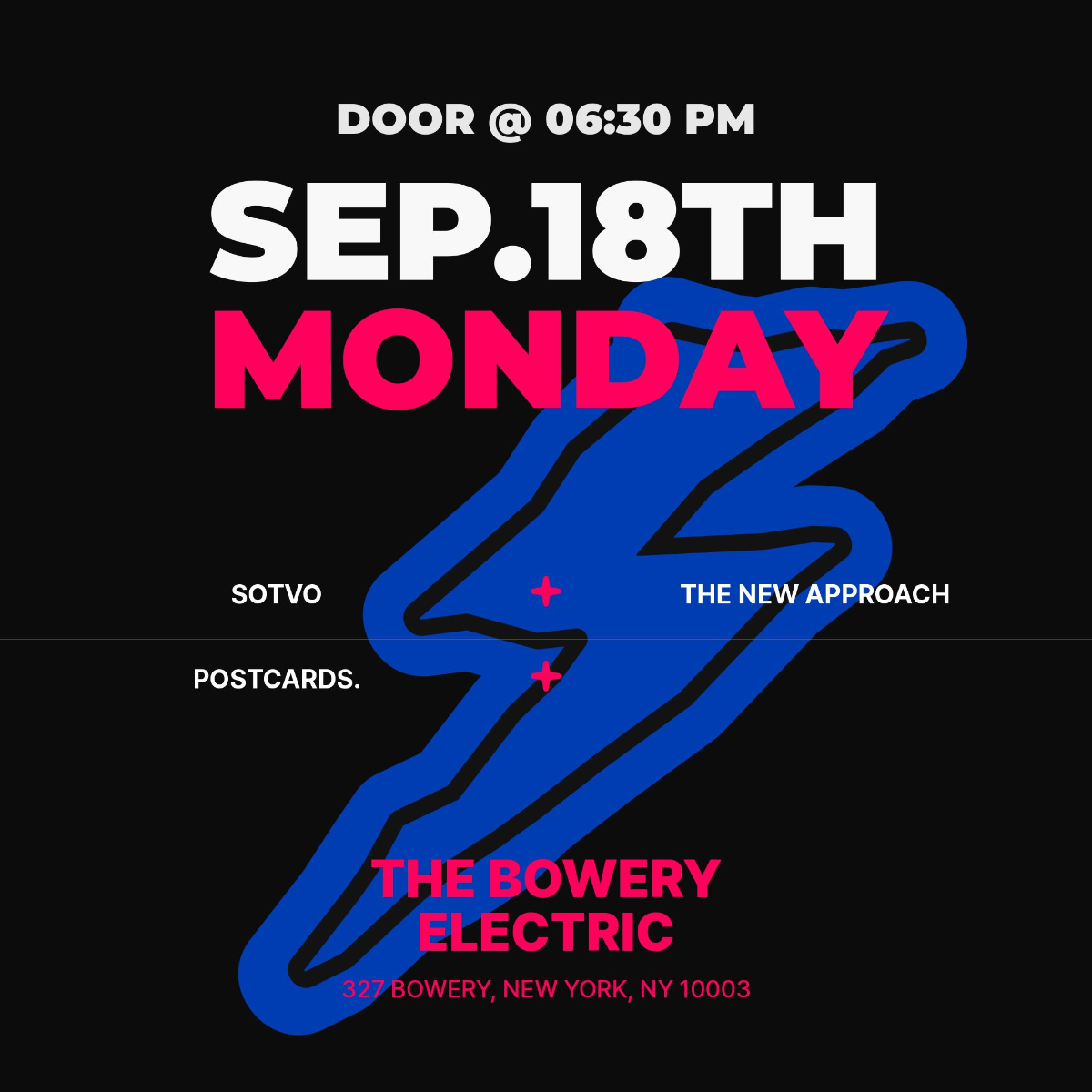 SOTVO
with
The New Approach
,
Postcards
Mon
September 18
@ 6:30 PM
(Doors: )
21 and up
SOTVO
dark punk goth rock. Sometimes angular sometimes thick and shoegaze. Powerful vocals and riffs weaved into powerful rhythms. Imagery emerging from horror, angst and desire. Think Joy Division and Nick Cave with piles of distortion Nirvana style.
The New Approach
emotionally intense and sonically driven, The New Approach performs with the sound and aesthetics of Rock N Roll while simultaneously diving into improvisation with the adventurousness and ferocity of Jazz. Hailing from Brooklyn, the four piece strives to make its audience members want to get up, shout, dance, or do all at the same time. While on the drop of a dime casting a reflective mood through unexpected shifting musical landscapes. The quartet performs in venues all around Manhattan and Brooklyn and currently is releasing their first EP titled The New Version Of Night on August 11th and their accompanying single Trendsetter on July 21st.
Postcards.
is the ever evolving musical project of Julian Mone that has it's sonic roots in the Folk, Alternitive Rock and Indie genres. After debut singles in early 2022, Postcards. released its first 6 song album "Mountain Hymns" in the early winter later that year. Currently working on another 5 track EP at Mortal Leap Recordings, Postcards. has expanded its number of collaborators, and is looking to share its music with the wider NYC community and beyond!
---
Artists
---
---
---
---