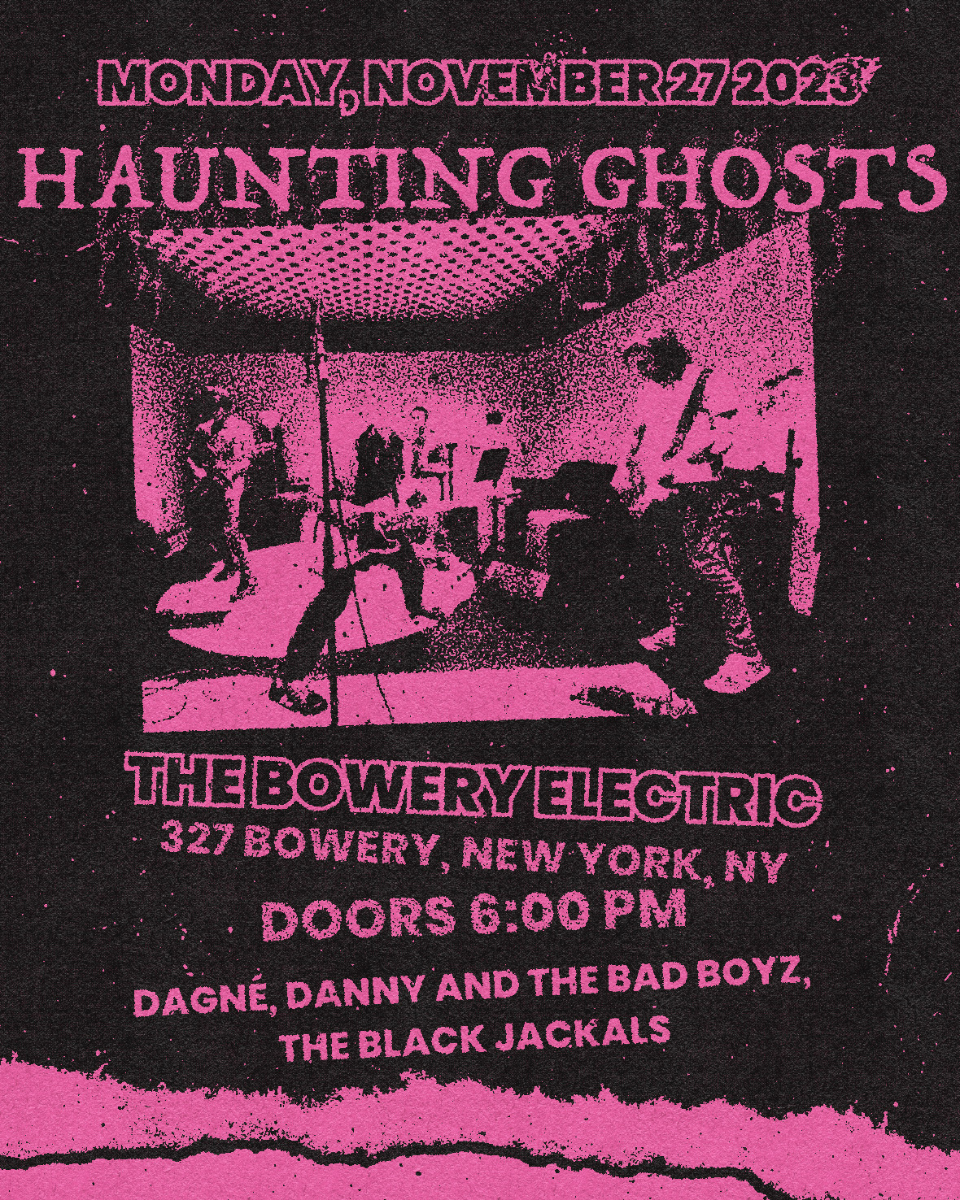 Genre
Mon
November 27
@ 6:30 PM
(Doors: )
21 and up
Haunting Ghosts
, emerging from the vibrant 𝖍𝖊𝖆𝖗𝖙 of New York City, fuses post-hardcore, alternative rock, 𝔢𝔪𝔬, and electrifying metal elements with a touch of early 2010s nostalgia drawing from their roots in the 2010s pop punk and hardcore scene.
The Black Jackals
are a Rock band, signed to the independent UK label, Sound-Hub. With a resurgent lineup and now based in New York, they recently made their US debut in New York earlier this year drawing fans from New York, New Jersey and UK. The Black Jackals have a strong resume of touring in the UK and Europe, opening for major label acts and have played the Shiiine Festival and O2 Academy Performances. The Black Jackals recordings and video of their feature single, Demons, are available on all major streaming platforms. More recordings and content is available on their social media platforms as well.
Danny and the Bad Boyz
are a 5-piece Rock/Blues band from New York City. The band formed in 2022 when guitarist Carlo Dano met actor, Danny Jordano, when Danny came to see him and his wife perform at the Bitter End. They invited Danny to an impromptu jam at their home. Impressed with his voice, Carlo soon asked Danny to front a brand new Blues/Rock band that he wanted to put together with some veteran rock collaborators with whom he'd played for years, and who all just couldn't get enough Rolling Stones, Junior Wells, and Sam and Dave. With Patrick Ben's inventive drumming, Michael Shoffel on bass tightening up the rhythm section, and lyrical, soaring keyboardist, John Keim, their sound began to take shape: Their unique brand of entertainment fuses wailing guitars, funky in the pocket grooves, and high energy vocals and dance moves that will make you want to dance till you're sweat drenched.
Dagné
, a lyricist and musician based in New York City, synthesizes the sounds of folk, pop, and singer-songwriter styles with poetry and verse to create a musical profile wholly her own.
---
Artists
---
---