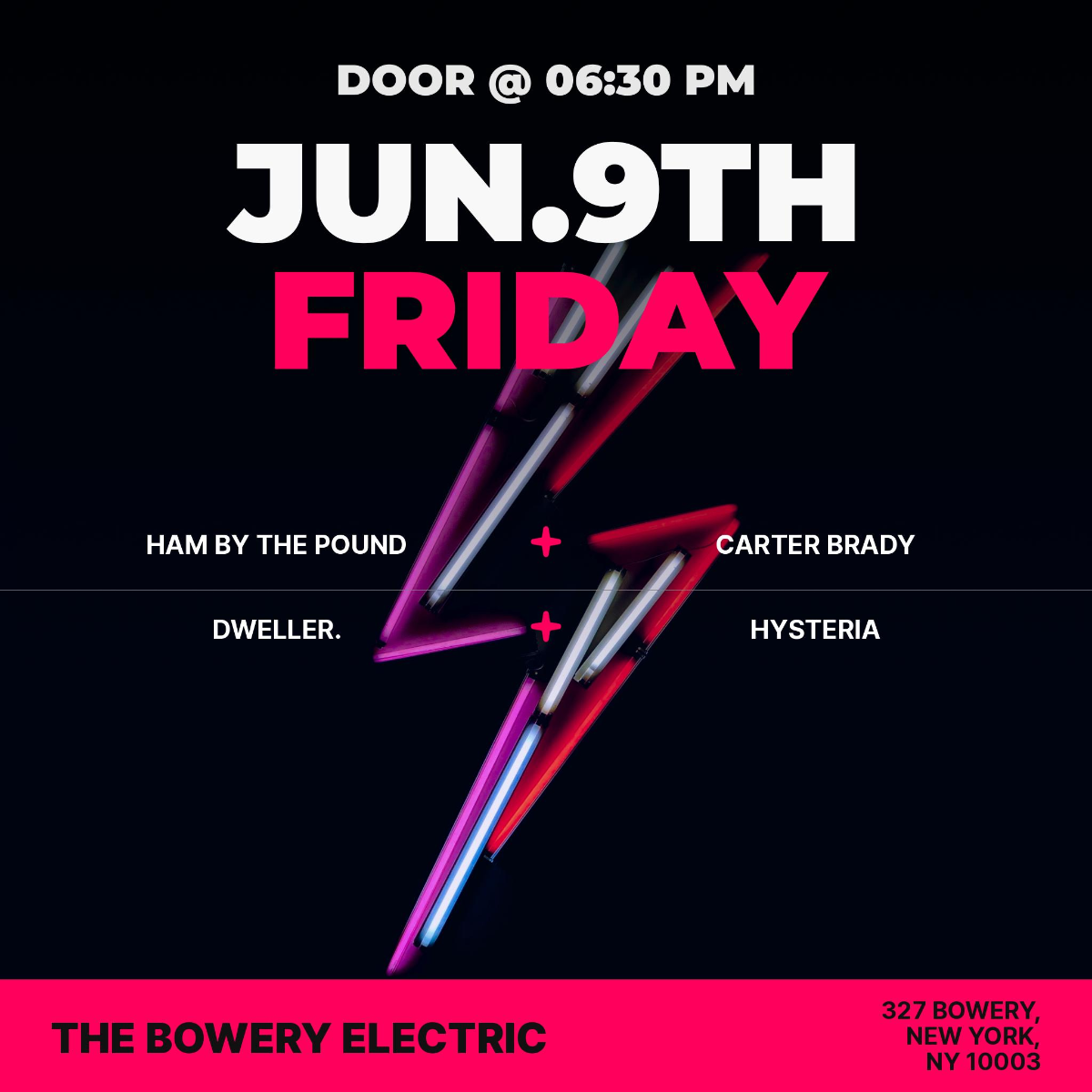 dweller.
Fri
June 9
@ 6:30 PM
(Doors: )
21 and up
Ham by the Pound
Ham by the Pound is made up of Evan Quigley (Guitar), Matthew Smith (Guitar), Sir Harvey Johnson (Bass), and Will Smith (Drums). The trio met in a federal prison in 2016, all facing separate charges of tax fraud. They bonded over their love of music and distaste for the IRS, and started writing music through 2018 and 2019. They released their debut EP, "Heather," on Valentine's Day of 2020. The band is currently working on their first studio album, expected in late 2023.
Carter Brady
Carter Brady's love of performing & recording songs is relentless. Raised in Pelham, NY just outside NYC, there is just something about his musicianship and ability to take any kind of music and be able to do something unique with it. Having recorded & performed in countless bands & groups over the past decade, the 24-year-old has managed to find himself indie fame in the music world. One of his singles "Chasing Vampires" has been compared by critics to the likes of Foo Fighters & Soccer Mommy, all while finding his own signature emulation of energetic/nostalgic rock.
dweller.
dweller. channel their collective pain and grief from recent years into their captivating debut EP All The Things We Carry. Reminiscent of bands like Balance & Composure and Citizen, the group mixes influences from emo to shoegaze to post-hardcore into 5 emotive tracks in tribute to their late friend and band bassist.
Star Funeral
All stars burn out of hydrogen and eventually die. It's a process that takes years, hurtling towards the inevitable end at speeds invisible to the naked eye. It's hard to zoom in on the forces that break things apart until there's nothing left but the aftermath.
Semaphore
On the surface, Semaphore seems much like any other shoegaze band: they're loud, atmospheric, and very, very moody. "We know we're a bunch of sad boys singing for sad boys," acknowledges Anandalingam, "but there's a disaffectedness to a lot of shoegaze, an instinct to contribute to a collective droning, that Semaphore resists. We're not trying to glorify numbness. We want to actually reach our audience." This longing to connect underpins Semaphore's work, lending an urgency to the band's perspective, sound, and approach.
---
Artists
---
---