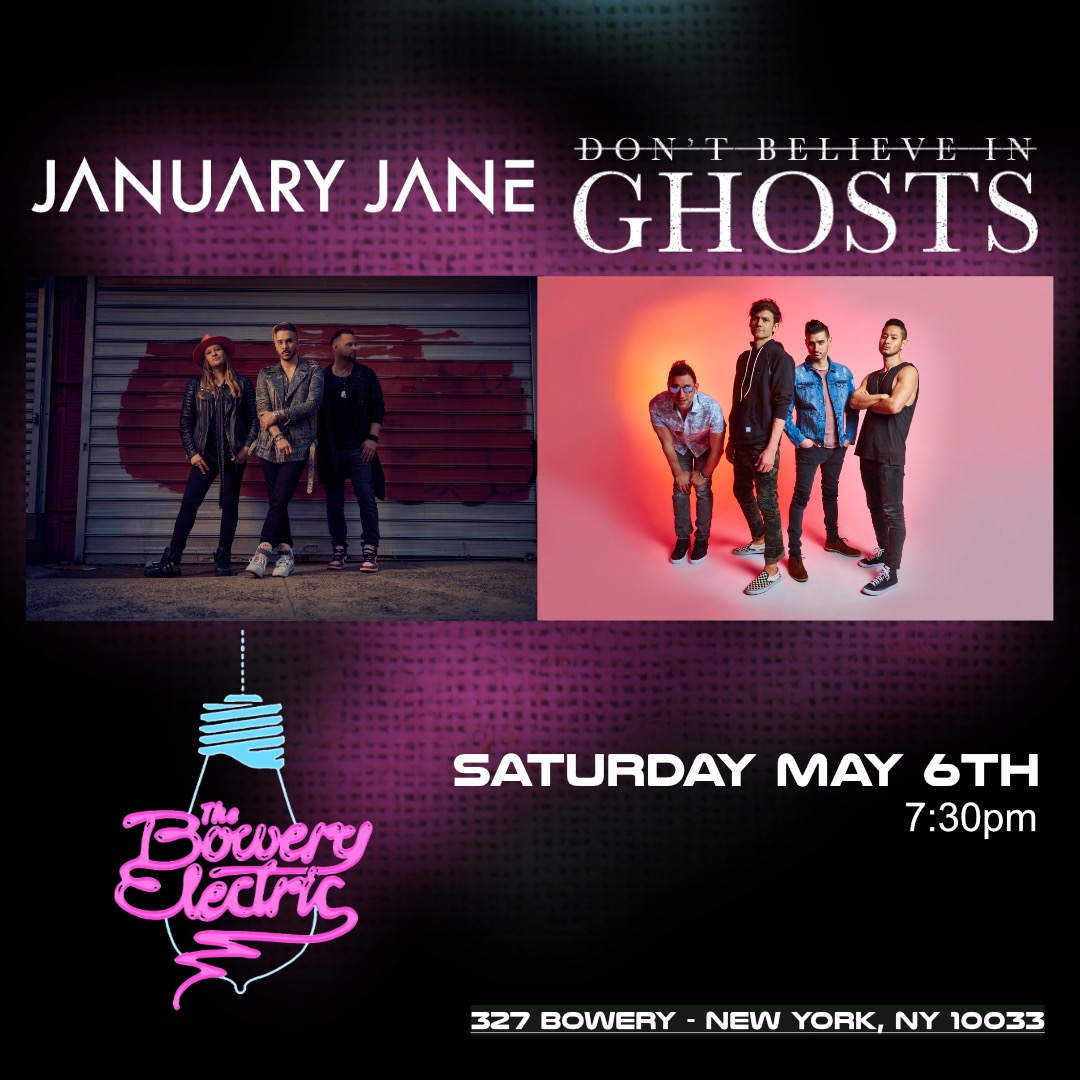 Don't Believe in Ghosts
Sat
May 6
@ 7:00 PM
(Doors: )
21 and up
Don't Believe in Ghosts
Don't Believe in Ghosts are an alternative indie pop band formed and based in New York City. Led by singer, songwriter, and producer Steven Nathan, the group features Dan DelVecchio on guitar, Alex Goumas on bass, and Ken Yang on drums.
The band signed with Imagen Records/Warner ADA in 2020, and is best known for their song "Put Your Head Back", which was featured in, and on the soundtrack of, the AppleTV+ show, "WeCrashed" - starring Jared Leto and Anne Hathaway. The song was mixed by Mark Needham, of 'The Killers' and 'Imagine Dragons' fame, and has received critical acclaim by multiple outlets across the country.
January Jane
4am - West Village - Singer Pat Via, along with the after party, find themselves back at Guitarist Mitch Mitchell's 5th Floor walk up - a whiskey fueled jam session leads to the newly introduced pair creating "New York City Lover", capturing the attention of a fellow partygoer who exclaimed, "grab your guitar! My buddy has a recording studio in his loft up the street and he needs to hear this. We're going right now!" In a New York minute, Pat and Mitch find themselves in the Meat Packing District meeting Peter Scialla and playing their song. Peter took an immediate interest in the dynamic duo and inquired, "how much do tour buses cost?" By sunrise, January Jane was born. BMG has just released their much-anticipated debut EP "Your Drug" with more music and touring on the way in 2022. Listen to their new EP "Your Drug" available now!
King Falcon
Michael Rubin, James Terranova and Tom Diognardi are King Falcon. Today, New York natives spread their wings and soar as seasoned musicians with an exhilarating self-titled debut on Mascot Records. The songs on this album speak to being little weird outcasts finding your way."
King Falcon's ultra-catchy songwriting sensibility melds classic rock swagger with indie-rock adventurousness, recalling artists such as the Black Keys, Cage The Elephant, Tame Impala, The Killers, Royal Blood, and Beck. The album brims with bluesy guitar riffage, sticky-sweet pop-punk choruses, soulfully melodic lead vocals, and vibrant indie-rock atmospherics. King Falcon is produced by Marshall Altman (Matt Nathanson, Marc Broussard, Kate Voegele, Frankie Ballard); mixed by 12-time Grammy-nominated mixing engineer and producer Mark Needham (The Killers, Imagine Dragons, Fleetwood Mac); and represents a powerful story of friendship, self-growth, and the bravery to go after a rock n' roll fantasy.
https://open.spotify.com/artist/KingFalcon
---
Artists
---
---