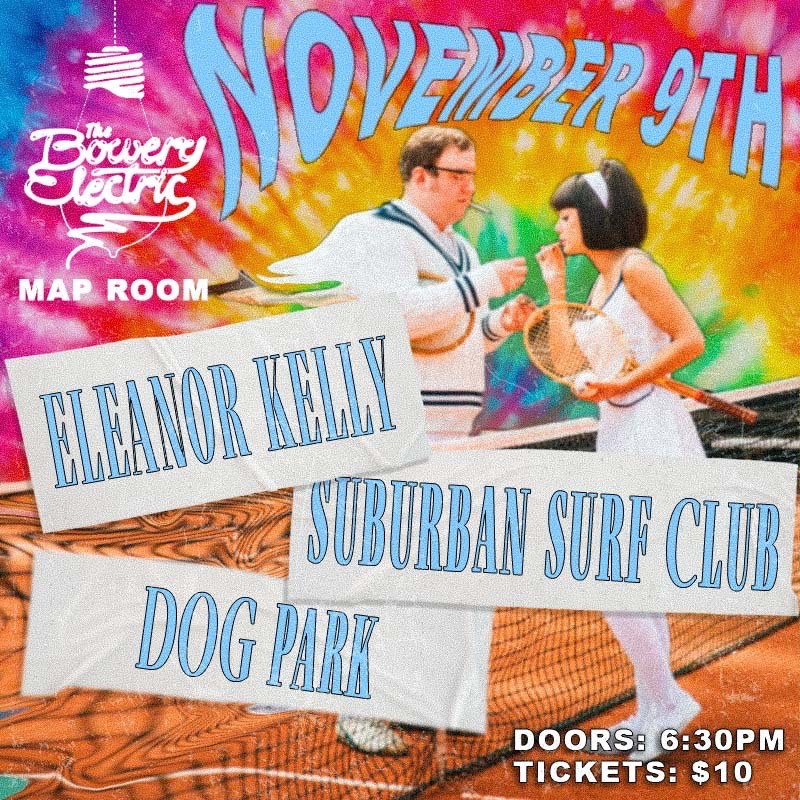 Genre
Thu
November 9
@ 6:30 PM
(Doors: )
21 and up
Suburban Surf Club
"unhardcore" from NYC. As if NYC needed another indie band. Suburban Surf Club brings together indie, surf rock, and punk. Neither member can surf.
Eleanor Kelly
, originally from Belgium and Israel, is a New York-based artist fueled by coffee, cat cuddles, 80s synths, and metal music. She has been writing songs and performing from a very young age. Her lyrics have always been inspired by both her personal life and her immediate environment, especially growing up in a politically heated country. After playing different roles in various music projects throughout her life, Eleanor started her current solo project in late 2022, releasing her first single "Daisy Chain" in February 2023. Her music is honest and direct, consisting of flowing synth lines, punchy drums, and fuzzy guitars and bass. Some of her biggest musical influences include Nine Inch Nails, Depeche Mode, Garbage, and Deftones. Her background also has a big influence on her music, adding subtle touches of both European and Middle Eastern tones to her songs.
Dog Park
currently a solo guitarist/singer. Mostly rock songs. Lots of songs on soundcloud.
---
Artists
---
---