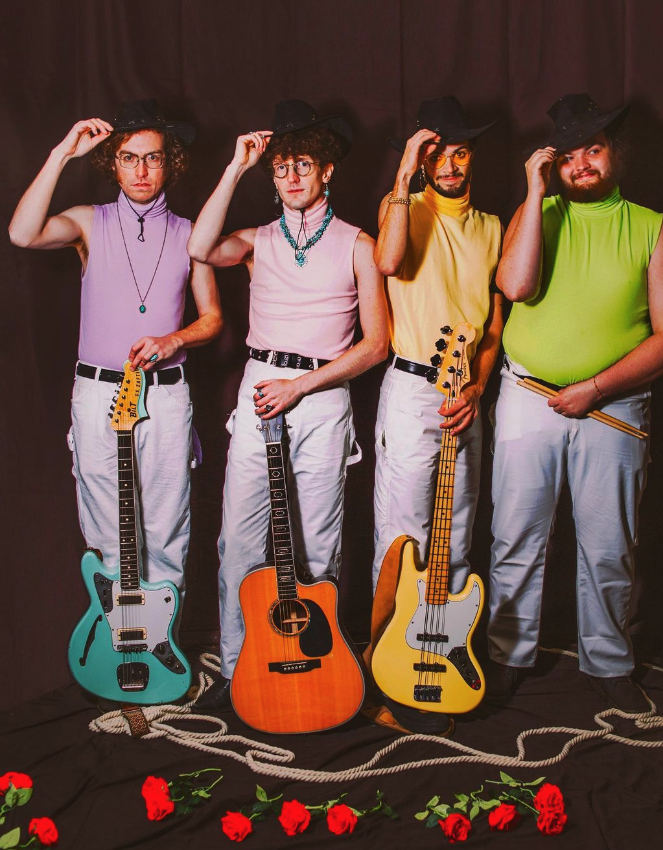 Red Velvet Supreme
with
A.M. County
,
Zora Sophia
Wed
October 11
@ 6:30 PM
(Doors: )
21 and up
Yer Flowers
are a band based in Knoxville, Tennessee. Their blend of country-rock combines with a healthy dose of punk energy to create a fresh, fun, and bold sound that's as colored by history as it is rooted in this moment, providing the backdrop for their lyrical content which reveals a fractured existence that can only mend by leaning into the tears. A band for the good and the bad times, they're a growth of budding flora fed by the same river that baptized Dolly—a sensual journey of becoming that'd behoove ya to tag along for!
The band has had only a short but exciting life so far. After forming in the Spring of '22, their first two singles "Floating" and "Wanna Die" were both released within their first six months as a band. They've since made a name for themselves as one of the most exciting live bands in East Tennessee with over 30 shows played in their first year performing, soon to be followed by their first tour up the east coast in October '23.
Red Velvet Supreme
started in 2016 when he began recording songs onto Soundcloud and doing shows throughout NYC with a focus on Modern Day Blues. Modern Day Blues is a genre that Red Velvet created to consolidate his love of influences including blues, rock, folk, funk, reggae, and psychedelic sounds. Since 2016, Red Velvet and his bandmate on bass, Mickey Mouse, have been recording and practicing to prepare for their debut release amongst a rotation of various drummers. Red Velvet Supreme started in early 2022 when Doc B came into the fold as their perfect drummer and have been doing shows and recording ever since.
A.M. County
founded in 2019, A.M. County is an indie rock band that draws inspiration from performing around Brooklyn and the Lower East Side. Their music blends Americana lyricism with nostalgic tones and powerful rhythmic interplay to create an immersive experience that deeply resonates with their audience.
Zora Sophia
Hi I'm Zora! I'm from Los Angeles, but I live in New York City now, and I'm super into the grunge/rock scene. I also love playing my originals at open mic nights with my acoustic guitar as well.
---
Artists
---
---
---
---