The Shelters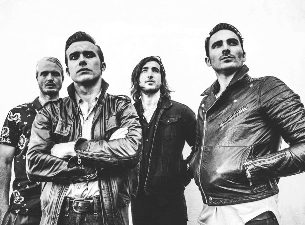 For a moment there, Los Angeles based band The Shelters seemed like 21st century rock 'n roll's best kept secret. But word got out. It started in the clubs. And everyone who saw them thought maybe he or she had gotten there first. By now, however, it's clear that they'll all have to share.
The Shelters released their debut LP on June 10, 2016 via Warner Bros. Records, a blast of Southern Californian rock and roll from a four-piece like they used to make them, when the factory was still up and running. Co-produced by Tom Petty, this album comes at you from behind, nothing you were expecting.
The Shelters had just banded together when Petty heard them and got a gut feeling about what they could be. He gave The Shelters the keys to his home studio and showed them a few things. Though mostly he left them alone, Petty had enough sense to leave the gear powered up. Maybe they were determined to show him he hadn't made a mistake. Maybe they just liked the way those old tube amps sounded. They seized the moment and got to work, insistent on becoming a band. A real band.
One listen to their single "Rebel Heart," or any one of the other eleven songs on their debut, and you'll know they pulled it off. Led by the songs, harmonies and twin-guitar sound of Chase Simpson and Josh Jove, and powered by drummer Sebastian Harris's groove obsession, the band has put together a collection of recordings that have an immediacy, an emotion, and a musical intelligence that suggests these boys are beyond their years.
People are going to reference some of the great rock and roll bands of yesterday and today. But this is no tribute show. The sounds they've made seem to have been dragged from the vaults and forced to fit the present. It's all a beautiful reminder that rock and roll may have slipped out of view for minute, but it's still out there, alive in the hands of the
ones who need it the most.
The Shelters, now including Jacob Pillot on bass, have toured recently with the likes of Band of Horses, Gary Clark Jr., Mudcrutch, The Kooks, The Wild Feathers, BRONCHO, Atlas Genius, The Struts and more, plus made major festival appearances across the country.
They toured the nation at the end of 2016 as a co-headliner on the SiriusXM Alt Nation Advanced Placement Tour before returning home to headline sold out shows in their native Los Angeles and San Diego in December.
Social Links
There are currently no upcoming events.